Introduction to Crypto, NFTs, and Web3
Join the C School team and our partners at Rally.io for an introduction to the world of Crypto, NFTs, and Web3.

We'll cover all the basics you need to understand the blockchain, the evolution of cryptocurrencies, what NFTs are and how organizations are leveraging them, and the basics of web3 organizations and how community fuels the movement.

This course is not yet open for enrollment, but leave your name and email and we'll let you know when it's ready!
Thank you! We will send you a note when the course is available.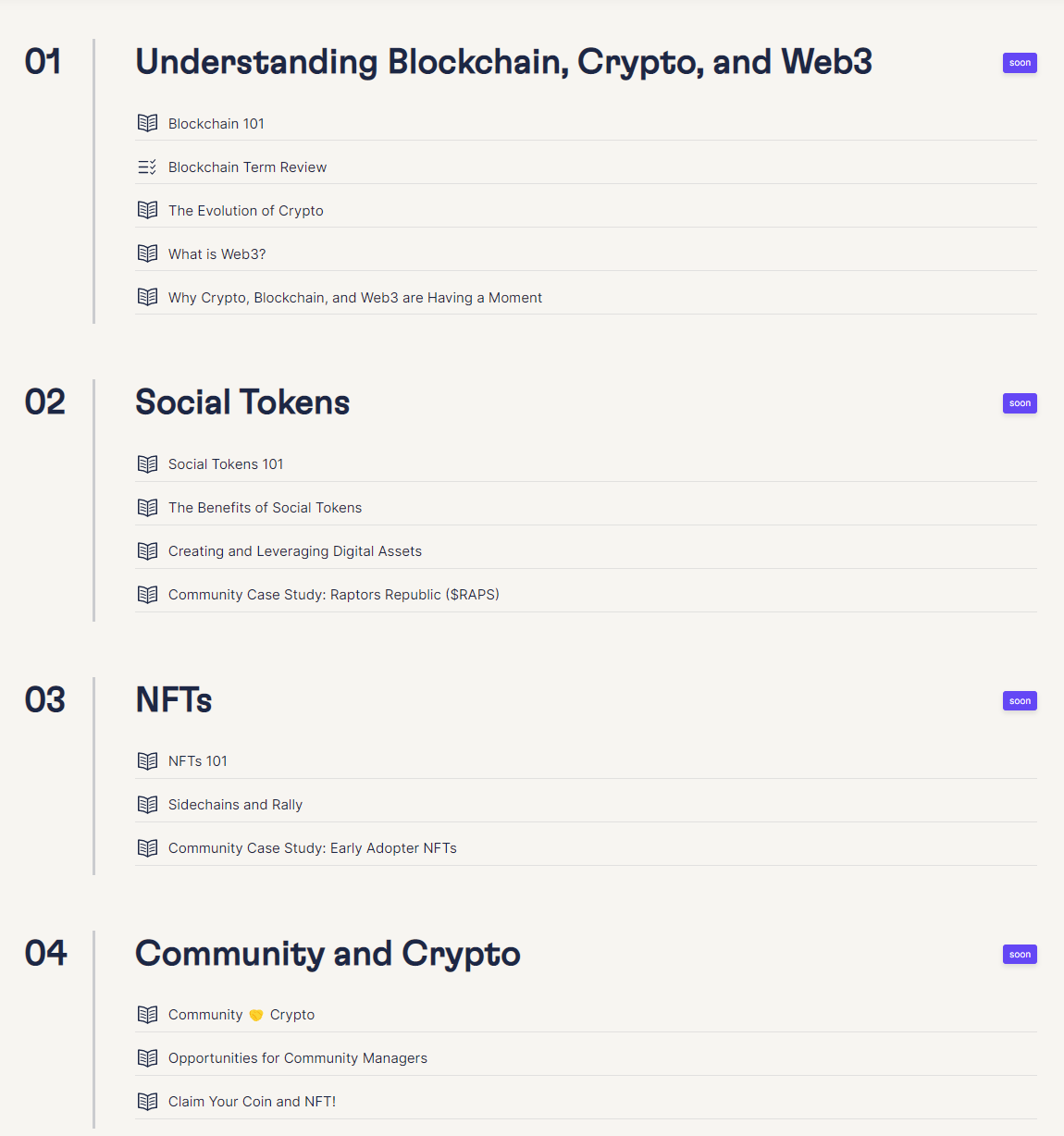 Meet Our Partner
Rally.io
Rally
makes it possible for anyone to launch their own branded cryptocurrency. With Rally, creators and communities are able to offer fee-free, peer-to-peer transactions in their social spaces, and use their tokens to create exclusive experiences, gated access, and more.
The success of any crypto project relies on a strong community. This is why Rally and C School are partnering with each other to help bridge community managers into this emerging space with resources, knowledge and opportunities to participate.
Frequently asked questions
This course is for anyone who wants to learn more about crypto, web3, or NFTs. We assumed no prior knowledge to web3, so if this is your first time learning about it, that's great! We also talk a lot about the intersection of community with these topics, so if that's what you're looking for, you've come to the right place.
If you're totally new to community work, we recommend our free course,
Understanding Capital C Community
, to get started!
What is the time commitment?
We anticipate this course will take up to 2-4 hours to work through. There are additional resources within the course (like podcasts, webinar recordings, and personal reflections) that are optional and might take more time. How much time you spend on those activities is up to you!
What is the format of the course?
This is a self-paced, asynchronous course designed to be flexible for you. The format includes video, audio, long form writing, reflection activities, and more.

All videos within the course include closed captioning, as well as full, interactive transcripts. All resources are in English.
While there are many incredible educational resources available for Community Managers, C School is the only program on the market offering this level of in-depth, hands-on instruction. Creating a program that's this hands-on and comprehensive requires full-time staff dedicated to building and executing.

Because we also want to encourage students who complete the course to get involved with web3, we're giving away some $RLY coin to each student.